Gandii Baat - The Epic Erotic Storm That Has Become a Mega Phenomenon
When it comes to erotic Indian dramas, AltBalaji's Gandii Baat tops the list with their unique storylines that talk about topics ranging from threesomes, BDSM etc alongwith commenting on various other social topics prevalent in our society. With three seasons in, it has become one of the most-watched shows in Indian OTT services. AltBalaji is set to present the fourth season of this epic erotic anthology series soon.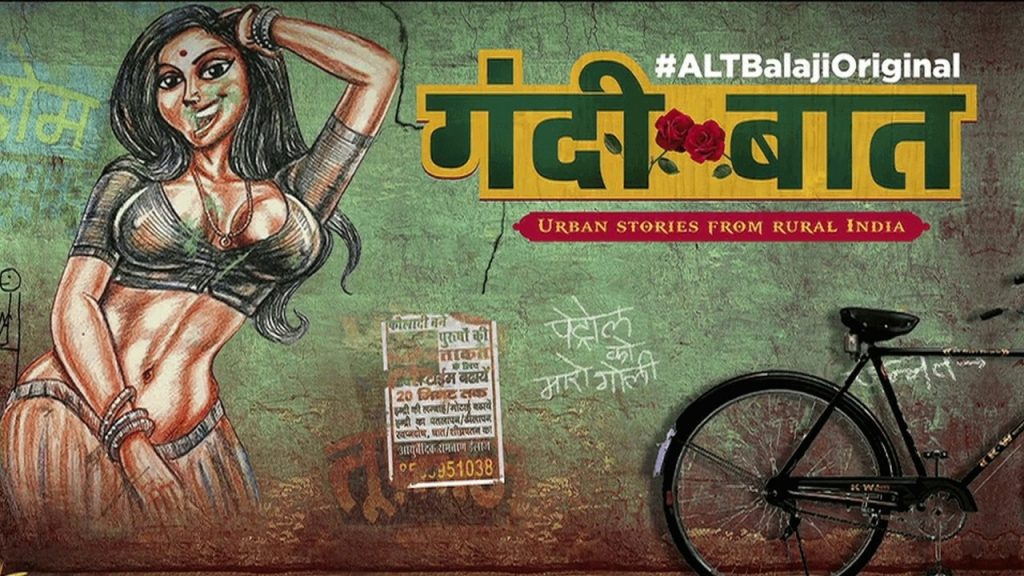 Premise
Season, Episode and Cast Details
Crew
Platforms to Watch
Review
Premise
Each episode of Gandii Baat features a new story with unique characters where they tackle various topics that are prevalent in our society but considered taboo. All the episodes are set in rural India with characters from different races and generations and how their carnal desires are no less than anyone else.
Season and Episode Details
Till date, three seasons have fully released and one episode of Season 4 was released on 7th November, 2019.
Season 1
Season 1 consisted of 4 episodes and all the episodes were released on May 3, 2018.
Episode 1 - Threesome
Namvar discovers that his wife, Gunja is having an affair with their neighbor, Doodnath. Initially angry to the point that he even threatens them with a gun, Namvar finally joins the neighbor in forcing a threesome.
CAST
Anant Joshi, Rohit Chaudhury, Neeta Shetty
Episode 2 - Tharki Buddha
With the comfort of technology, Rajendra expects to find extreme levels of pleasure. This thirst becomes unbearable for his son, wife and daughter-in-law. This leads to dark and alarming consequences.
CAST
Lovely Sharma, Naveen Pandita, Rajesh Tripathi, Yamini Singh
Episode 3 - Vasu Nag
In an Indian village, the women start feeling neglected by men who find the men have no concerns for their thoughts and desires and only see them as housewives who are brought to do their chores. A mysterious snake soon appears who fill the void in these women's lives.
CAST
Mrinalini Tyagi, Ripraj Chauhan, Kalyani C Chaitanya, Deepika H Khanna
Episode 4 - Preeto Rani
Preeto is a powerful woman who is in charge of her own household with the men-folk losing their hearts over her. Her son-in-law, Gogi tries to put his own claim on her but he is met with dangerous results.
CAST
Narayani Shastri, Vijay Chandrna, Vaibhav Shah
Season 2
Season 2 consisted of 5 episodes that premiered on January 7, 2019, with four episodes releasing on the same day. The fifth and final episode was released on April 11, 2019.
Episode 1 - Bai-Sexual
Neeta becomes shocked when she discovers her husband, Vaibhav is having an affair with their maid, Sajeeli. Things get even more awkward when Sajeeli asks Vaibhav to let her sleep with his wife.
CAST
Anveshi Jain, Flora Saini, Aman Maheshwari
Episode 2 - Jadui Mahal
There is a mysterious Jadui Mahal that has made an entire village curious and scared at the same time. Things are about to change fast when the village sarpanch decides to explore the Mahal and discover its secrets.
CAST
Sonam Arora, Sikandar Chohan, Coral Bhamra
Episode 3 - Gibraltar
Bhushan wants to get married to Seema as fast as he can. Seema, on the other hand, is intimidated by her fiancé. When she gets fed up of the humiliation, she decides to teach him a lesson he will never forget.
CAST
Pradeep Duhan, Nazneen Patni
Episode 4 - Love, Sex and Betrayal
Dugga, Sachi, Heera, and Soma are soon entangled in their confusion of love and lust. It is all going to change as they will soon learn the difference through an age-old tradition.
CAST
Abhishek Gupta, Navneet Kaur, Ruby Bharaj, Fahman Khan
Episode 5 - Gudiya Rani
This was the only episode of Season 2 that came out on April 11, 2019. The story is about a kidnapped truck driver, Kishan Chand who is made to marry a girl and put in a strange room where there is no escape.
CAST
Vikas Verma, Alpa Joshi, Pari Goswami
Season 3
Season 3 consisted of 4 episodes and were released on July 27, 2019
Episode 1 - Rajkumar
An unusual love story exists around a family of Mallah(boat drivers), brother, sister, sister-in-law, some villagers and also a boat becomes the plot of this episode.
CAST
Neetu Wadhwa, Jatin Bhatia, Pallavi Mukherjee
Episode 2 - Harpreet Weds Harpreet
Jogi comes to India from Canada to attend his friend's brother, Harpreet's wedding to another girl, also named Harpreet. He meets a mysterious girl, another Harpreet and has strange encounters every time he meets her.
CAST
Lalit Bisht, Sheeva Rana, Shiny Dixit
Episode 3 - Sonam Chad Gayi
Sonam is a prostitute who gets involved with a politician. This leads to a catastrophic mishap during a train journey.
CAST
Aasma Syed, Rushali Arora, Yajuvendra Singh
Episode 4 - Honeymoon On Wheels
Various couples board a bus meant only for honeymoon. The bus comes across a village that is considered to be haunted as any bus passing the village on the 26th disappears. The mystery behind the disappearance forms the premise of this episode.
CAST
Priom Gujjar, Akansha Sharma, Zeeshan Khan, Shikha Thakur
Season 4
The first episode of Season 4 premiered on 7th November, 2019.
Episode 1 - Meetha Meetha Pyara Pyara
Kusuma adores sexuality but is afraid of intercourse. Her soon to be husband, Savan, wants a fantasy-fuelled sex-life. What will be the consequences when they finally get married?
CAST
Mridula Mahajan, Aditya Singh Rajput
Crew
All the episodes are directed by the creator of the show Sachin Mohite. The show is developed by Ekta Kapoor, who has called the show India's own Black Mirror.
Platforms to Watch
All the seasons are available to watch on the following platforms:
- Altbalaji platform that can be subscribed at Rs. 100 for three months and Rs. 300 for twelve months. Amazon Pay users can also avail a discount of 50% on their purchase.
- Airtel TV if you have Airtel Rs. 399 Postpaid Plan.
- Jio Cinema and people with Jio sims can watch it there for free.
- Vodafone Play and people with Vodafone sims can watch it there for free.
Review
Gandii Baat has an IMDB rating of 3.9/10 and MyMovieRack rating of 3.4/5.
The show never fails to put your attention away. For fans of adult dramas, this is a sure gem as it explores really unconventional topics, which are obscure in Indian TV. It is bold, unapologetic and full of masala entertainment. Some episodes might be too bizarre but there are episodes that you cannot put your eyes away from with certainly a lot of pausing moments.